As a homeowner and parent, you want to feel as though your entire family is safe when they are on their own property. You never know what could happen or when someone might try entering the home while no one is aware. This is why there are many wonderful ways to protect your home and your family. With the increase in technology, home alarm systems only get better and better. It is a great way to keep all of those you love protected.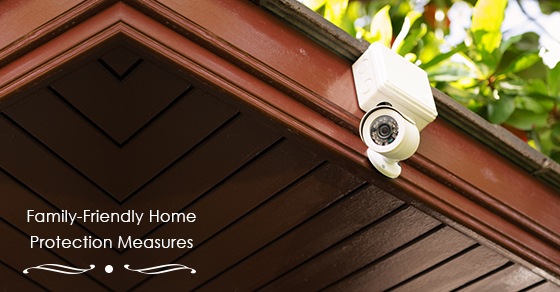 Visual Surveillance
It's one thing to have an alarm that can go off if something odd happens in your home throughout the day, but it's another thing to be able to actually see what is happening. Having visual monitoring allows you to check in on your property, your family, and your belongings remotely from anywhere in the world.
Advanced Fire Protection
Did you know that nearly 30% of residential smoke detectors in North America don't even have working batteries in them? On top of that, some of them can only detect smoke if it's within a few feet of the detector, rendering them useless if they're too far from the source. Investing in a more advanced smoke detector will allow you to keep your family protected from everything from small flickers to large blazes.
Stronger Front Door Locks
Studies show that if a home doesn't provide easy access to a burglar, they'll move on to the next target. Securing your home with a strong lock, or even a secondary lock, will keep your home safe and secure against ill willed people.
When you are considering home alarm systems, know that there are four ways to receive a notification of someone breaking and entering. These include text message, broadband, cellular and a two-way voice that threatens the intruder. Not everyone offers all of these methods of being notified, but consult with your customer service representative to tell them what you prefer. Many alarm systems can be customized to suit your needs.
Most companies will charge a down payment for the installation of an alarm system, as well as a small monthly fee. However some companies, like Think Protection, for example, now offer lower cost options that you can install yourself. Home protection systems don't have to be expensive! If you are one who is constantly traveling for business, having a home protection systems in place could be the only thing that saves your home and family from becoming the victim of a crime. Find an alarm system that fits your family's needs best and decide what features you could really benefit from before you make a decision!
" Please only post reviews if you are a current user with this company or have been in the past so that this information is as accurate as possible."