Traveling requires a lot of planning. Not only do you have to consider where you'll stay and what you'll do while you're away, you also need to plan for what happens at home when you're not around.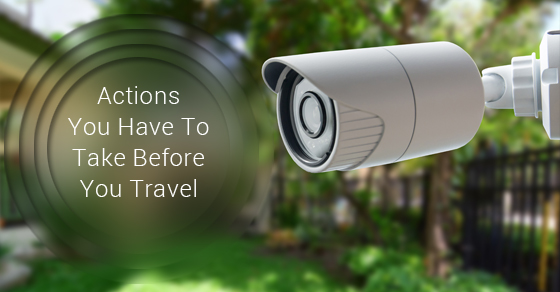 Home security is your number one priority. That's why you need to consider the following 4 things you should do before you travel to ensure that you have a stress-free trip and can return to your home exactly the way you left it.
Keep Your Home Looking Occupied

An unoccupied home is a welcome sign for would-be intruders. Consider installing timers for your lights and electronic devices. When outsiders see lights turning on and off throughout the day, they'll have the impression that you're still around.

If you plan to leave your car at home, place it in the driveway so that people will assume you are still in town. An empty driveway can attract the attention of unwanted visitors.

Arrange to have your mail canceled for the duration of your trip. If you find yourself forgetting to do this at the last minute, ask a friend or family member to come by regularly to clear out your mailbox.

Ask Someone to Watch Your Home

In addition to having someone empty your mailbox, you can designate someone to visit your house and check up on things every few days. They'll be able to contact you in the case of an emergency.

Give this person a spare key so that they can go inside and make sure everything is in order. But be careful not to let too many people know that you're away. This is especially true when posting personal information on social media sites.

Posting photos of your trip while traveling should be done with caution, as they can often be seen by anyone and provide outsiders with the knowledge that your home is unattended.

Use Security Cameras and Lighting

Home security cameras now let you monitor your home from anywhere in the world. This lets you monitor your property while you're traveling.

Some security systems include notification features that alert you on certain events that occur on your property (IE someone is trespassing on your lawn). This provides a greater level of security and allows you to notify the right people when something goes wrong.

One of the biggest benefits of home security cameras these days is that they're less expensive, making home protection a viable option for more people. There's a wide range of solution options available that meets any budget and makes it easy to add a surveillance system to your property.

In order to keep intruders from making their way into your home at night, install security lights around your property. These can be motion-activated or set to a timer. Lighting systems are essential to the security of your home while you travel.
These 3 things will protect your home and your family when you're away. Keeping your home looking occupied deters any potential intruders. Having a friend or family member makes it easy to collect mail and make sure that everything is in place.
Home security cameras and lighting provide a defense shield that lets you monitor your home. Putting these 3 steps into place lets you fully enjoy your next trip while providing the security you need.
" Please only post reviews if you are a current user with this company or have been in the past so that this information is as accurate as possible."