Whether your summertime ritual calls for short excursions nearby, weekend-long road trips or extended vacations to foreign lands, you need to ensure that your home is protected in the event that someone tries to break in.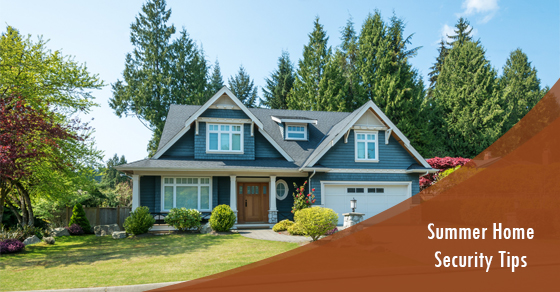 The truth of the matter is that thieves like to take advantage of the warm weather since they know that summer is a time when many families take vacations, and they'll be on the prowl for homes that look like easy targets.
So your job this summer, and indeed year round, is to make your house an unattractive target for criminals. If you're looking for some inspiration, you need to read about these four home security tips for the summer. The fourth tip will show you that some possible dangers have nothing to do with thieves at all.
Lock it Up: You want to make it as hard as possible for crooks to gain entry to your home. That means good locks, doors and windows. As well, make sure that they're all locked when you're not around so that they don't become the means through which a break and enter is committed.

Upkeep: If you ensure that proper upkeep is done to your home, you'll more likely than not deter thieves from targeting your home. What this means is that you need to regularly cut the grass and trim the hedges so that thieves scratch your name off of their target list.

Give it a Lived-In Look: You need to ensure that your home has that lived-in look. Otherwise, thieves might assume that your home is unoccupied and opt to break in. You might need a neighbour to come by and pick up your mail or newspapers so that thieves don't pick up on you're not being around. Also, be sure to turn on a radio station so that voices can be heard in your home, turn down your phone since a ringing phone that no one answers can alert thieves that no one's home, and set your lights on timers so that they come on at night and turn off in the morning.

Turn Off Water: In the event that your summer trip will last several weeks, you should shut off the water to your house, and you should also drain the lines. What this will do is reduce pressure so that if you suffer a burst pipe situation, the damage will be somewhat contained. If the water is not shut off and a pipe bursts, you could be on the receiving end of very costly water damage.
Summertime is the time of year to get out and enjoy time with family and friends, but you need to ensure that your home is safe while you're away. If you follow the tips mentioned above, you'll be able to make your home an undesirable target for thieves as well as to protect it in the event of things like burst pipes.
" Please only post reviews if you are a current user with this company or have been in the past so that this information is as accurate as possible."