The door is usually the first point of entry for burglars; therefore, you should make it as difficult as possible for them to break in. The door is your first line of defense, so give it as much chance as possible by "arming" it with everything possible. This includes things that are part of the door itself, as well as things external to the door. Here are some suggestions to help you to make your door burglarproof: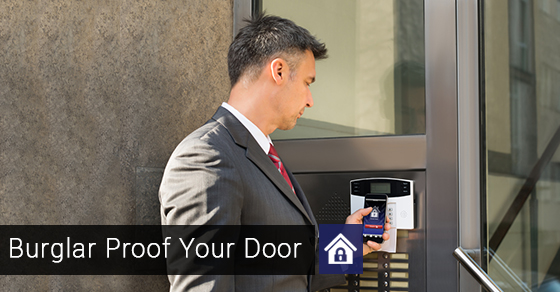 Inspect Your Door

Inspect your door to see if it is in good shape. You might find that your door is old or in need of repairs. If the material is not strong enough then you might have to consider replacing it with a better quality door -- preferably one made of fibreglass, metal or solid wood. Reinforced steel doors are a good option, but be prepared for high maintenance.

Avoid Windows In Your Doors

Windows are good for aesthetics but bad for security -- burglars can break through them to get to the lock. If you must have windows then make sure they are reinforced and place the lock at the foot of the door.

Use Quality Deadbolts

A door is only as secure as its lock. Without a sturdy lock even the strongest door is vulnerable. Deadbolts are a great choice for securing your door. While you don't have to go with the most expensive brand, avoid the cheap ones too. You can also use secondary deadbolts that can only be unlocked from the inside. They present a big challenge for burglars even if they get past the primary lock.

Secure Sliding Doors

Sliding doors are easy to get past if they are not properly secured. The latch is not enough to deter burglars, because they can easily be dislodged with a good shake. Ideally, they should be replaced with regular doors, but you can still take measures to make them more secure:

Install Security Bars

Security bars can be placed between the doorframe and the sliding door. These can be purchased or you can make one yourself; either way, it provides protection against a burglar easily sliding the door open.

Sliding Door Locks

There are locks especially for sliding doors. The bolt slides up when the door is shut and you use a key to put it in position.

Door Sensors

Door sensors are more sophisticated and will automatically trigger an alarm once the door is opened. This is one of the more high-tech strategies, but it is worth it in the end.
Doors can be easily secured once you employ the right technology and material. In addition to a strong door, you should not neglect protecting other parts of your home. Security cameras, alarms and lighting are additional things you should think of when securing your home. If you know of other strategies to better protect your door and your home, then let us know!
" Please only post reviews if you are a current user with this company or have been in the past so that this information is as accurate as possible."