For parents, the security of their children is priority number one. How often do we wonder about the "where, when and what" when it comes to our kids? Constantly. But you don't have to wish you were a fly on the wall wherever your kids are. Today, a smart home security system will be that fly for you.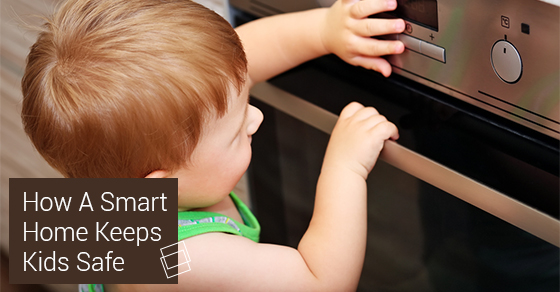 Knowing when the kids are in, and that the doors are locked.

Smart locks give you the ability to lock and unlock your doors from anywhere, and alert you to who is coming and going. With a personalized code to access the house for your kids, you'll be instantly notified whenever they arrive home. And you don't have to worry about whether they locked the house behind them – smart locks lock themselves within moments of arriving.

No more risk of letting a stranger in.

No matter how much you tell children not to open the door for a stranger, often they forget or are fooled into doing it. A smart home automation system that offers video intercom capability (high definition camera, speakers and microphone, and a fast, high-resolution display) will ensure that never happens. They will always be able to see who's at the door.

Protecting the little ones.

If you have small children, you may worry about them running around and toppling a television set. By placing the TV on a dresser or entertainment centre you can use a bracket and secure it against the wall. And cut the clutter for more safety – all of your extra equipment, such as the DVD player, gaming gear, etc., can be placed in a media cabinet, and with the right system, you'll be able to access all of it with one remote.

Preventing tragic accidents.

How often do we see on the news that a child has been accidentally poisoned or has fallen victim to a drug overdose because they gained access to an area where prescription medicines or other hazardous substances are stored? If you have motion sensors that alert you of any entry into these areas, this type of tragic accident should never happen at your house.

Knowing what the kids are doing at all times.

Keeping an eye on your kids whenever you're out of the house is no longer just a parental fantasy. By installing security cameras around the house, you will be able to see what your kids are up to anytime, any place. Or, if your kids are very young and still need a babysitter, you can monitor the babysitter's care, or check on your baby while they sleep.

Ensuring against trips and falls.

Teenagers are known for their late hours and late-night trips to the kitchen for a midnight snack or to the bathroom. Avoid any slipping/tripping accidents with motion sensors that trigger lights along their path.

Preventing the risk of harm or crime in the garage.

The garage can often be an unsafe area – it not only provides access to your home, but it is also a hiding place for criminals. And, unfortunately, we often forget to close the garage door. With a smart home automation, your garage door will close itself a few minutes after it was left open.

Making sure the toddler does not toddle out of bounds.

It's a proud moment when your baby finally masters walking. But the flip side to this is that having gained that skill, they are bound to practice it all the time all over the place, and that sometimes puts them at risk of wandering out of the house. With a home automation system, you can program your house to trigger flashing lights and overhead audio alerts if your child is out of bounds.
Chances are that before you had kids, home security was not a priority. But with children at home, a security system that offers smart technology to ensure that no harm comes to them, either from outside or inside or at their own hands, is likely to figure prominently in your mind. And making this happen is not a difficult task; simply contact a home alarm company that offers remote arming/disarming through a smartphone app and comprehensive home automation as part of their home security plan.
" Please only post reviews if you are a current user with this company or have been in the past so that this information is as accurate as possible."