Selecting a security system, especially if you are business owner, should be considered a necessary cost of doing business. Protecting your property and your livelihood, as well as your company's reputation, is necessary to staying in business and staying profitable. Here are some tips for choosing the best security system for your office.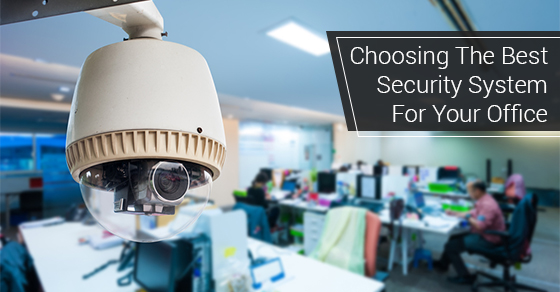 Evaluate your area.
Analyzing which types of crimes occur most frequently in your area, when they occur and how they occur should inform your decision when deciding which type of security package you will opt for and what kind of measures should be in place to best protect your business.
Mark your entrances.
Anywhere there is a possible entrance to your premises should be considered a point of vulnerability and protected accordingly, whether with cameras, motion sensors, remote controlled lights or some combination of all three. Mark these points down on the blueprints of your office so that you know your plan of attack.
Determine an adequate amount of lighting for the premises.
Well lit areas are one of the best ways to deter potential vandals and intruders because it eliminates the cover of darkness and their element of surprise. Motion sensing and flood lights that are motion sensitive and activate is a great way to stop would be intruders dead in their tracks.
Determine your internal security needs.
If there are vulnerable points of entry within a building, such as those that lead to areas where cash or sensitive documents are stored, consider installing fingerprint technology or heavy-duty pad locks for added protection.
Make your security presence felt.
Most providers of home and office security systems provide you with decals and placards for advertising the presence of a security system. This lets potential intruders know that the premises are being monitored, possibly even remotely, and that if they are considering trying a forced entry, that both you and the authorities will be notified of their presence immediately.
Re-evaluate your security measures periodically to ensure that you have the appropriate measures in place, both technologically, and practically, given the threats in your area. If you are considering implementing new or additional security measures in and around your business, keep in mind the above five suggestions and feel confident that your business and your property is well protected and intruders sufficiently deterred. Having security measures in place not only saves you money on potentially damaged or stolen property, but the trickle down effects of reduced insurance premiums are another reason to consider a comprehensive business security system.
" Please only post reviews if you are a current user with this company or have been in the past so that this information is as accurate as possible."