With today's uber sophisticated home automation schemes, your house can virtually run and protect itself! Indeed, your family's comfort and unbreachable security can be delivered automatically at optimal, desired times, or at the touch of a button. Just as importantly, these systems can make your home energy efficient, saving you money as well as shrinking your carbon footprint.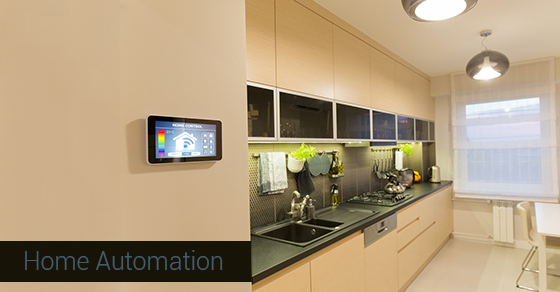 What is home automation?
In a nutshell, home automation is the automatic operation and scheduling of your house's operating systems (i.e. heating and air conditioning, lighting, appliances, window coverings, security systems, and even landscaping systems such as water sprinkling). This operation is programmed and/or controlled remotely from anywhere using an Internet-connected computer or mobile device.
What can be achieved with home automation?
What's possible with a home automation system? You could say, the sky is the limit. It all starts and ends with what makes your family's life easier and, of course, your budget. You can literally go crazy with technology, automating almost every function, or you can just interconnect some basic standalone systems that are vital inside your home, and call it a day.
Here are a few examples to give you an idea of what is possible:
You arrive home late at night. When the garage door opens, the lights leading up to your door automatically turn on, and every TV in your home automatically turns on to your favourite channel.

Do you or your family have a bad habit of leaving a room without switching the lights off?

Motion sensors in key areas can signal the automation system to do it for you. Or, you can just touch a button and all of the lights in home will turn off.

Are you a music fan? With a dedicated keypad in each room you can stream music to every room in your house. Or, if playing tunes in the morning is your thing, you can have music start automatically in the bathroom when you turn on the shower lights.

If you love to entertain, you can create instant ambiance with the touch of a button that illuminates key areas and starts a customized playlist. Or, you can use your iPad to tell the refrigerator when to start producing ice cubes for those eagerly awaited martinis.

Need a bit of parental help? You can have a notification sent to your kids' iPads to turn off their TVs. You can have the lights flash as a warning, following by the termination of power to the T.V, signaling that it's time to turn off electronics for the night.

Need help with routine household chores? Your home automation system will open the drapes, gradually raise the lighting over the course of five minutes, set the temperature to your ideal level in the morning and again when you leave for work, and heat towel racks just in time for your morning shower.
But, if these scenarios seem a bit too James Bond-like for you and you're just all about security, there are plenty of automation ideas that will beef up your security system.
For instance, you can automate your bedroom touch screen to see who's at the door; build in alerts to notify you if the front door is left open for longer than five minutes or if the front gate is open for an extended period of time; or configure the system to provide you with access to the security video feed remotely from your Smartphone — from anywhere in the world.
When there is a security breach, you can program every light in the house to illuminate or have the front door automatically lock, your shades open, and every TV display views from all surveillance cameras. And the list goes on. All you need is a solid operating system powering your home, and a reliable, flexible security company that can make all this happen.
" Please only post reviews if you are a current user with this company or have been in the past so that this information is as accurate as possible."