Whether you're renting a house or own your home, ensuring your family and valuables are secure is everyone's top priority. We've come up with some do-it-yourself home security tips to keep your property and the people you love safe.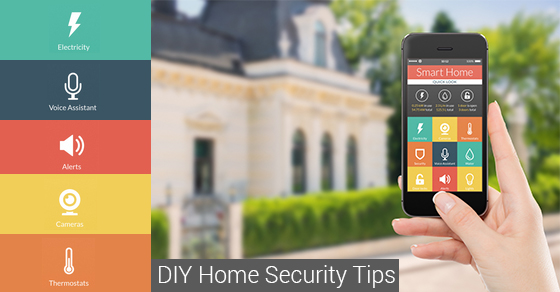 Install your own security system
You can purchase a security system from your local hardware or big box store. Make sure the system you purchase is wireless and can be installed easily with household tools like a hammer and nails or double-sided adhesive. The system should include door and window alarm sensors and if possible, motion sensors that can be moved around as needed.
Security cameras for properties outside may prove challenging to install on your own, in which case you should contact a professional security company to do it for you.
Keep wires out of sight
Before breaking into your home, burglars search the exterior of your property to find wires that they can cut. By cutting wires, they hope to disable your security system. Hide your security wiring to avoid this problem or invest in a digital system that works wirelessly (as we mentioned in the previous paragraph).
Fool outsiders with lights
With special timers you can give the illusion that someone is in the house when no one's home. By instituting timers on interior lights, stereos and TVs, you can set them to go on and off as you see fit. Digital timers allow you to decide when the lights go on and off and most can be programmed from your smartphone.
Maintain your yard
Not all burglars will break in through a window. Some are bold and will walk right through your front door. A great way to deter criminals is to keep your lawn in top shape. When you let your grass become overgrown and don't prune your hedges, burglars take this as a sign that you're on vacation and could waltz right into your home.
Watch the neighbourhood
If you live in a tight-knit community and are friendly with your neighbours, start a neighbourhood watch group. Inform your local police department of your watch group and they'll provide you with information and tips on how to detect when something goes awry in the neighbourhood.
For more information about home security systems, stay tuned to Good Alarm Bad Alarm. We're home security experts and we have everything you need to protect your property and the most valuable thing in it: your family.
" Please only post reviews if you are a current user with this company or have been in the past so that this information is as accurate as possible."