A parent's nightmare is not being able to protect their children from getting hurt. Luckily, there are precautions you can take in your own home to make sure they are safe and secure.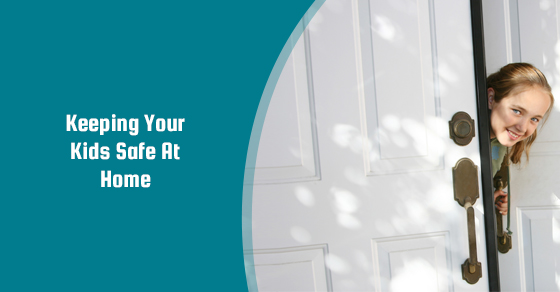 Child Proofing
A simple way to keep your kids safe in the home is to childproof it. There are many household things that would be dangerous such as batteries. Kids love putting things in their mouth and batteries are the perfect size to do that. To keep batteries from entering their mouths you could keep loose ones locked away and put duct or electrical tape around remotes so they couldn't open them.
Other ways to keep your children safe is to cook on the back burners of your stove so they can't reach the hot pot handles. While you are baking keep them from following the smells of chocolate and sweets to the oven by placing them in a high chair or have the oven area blocked off.
Even sleeping can be dangerous when it comes to little children. When they are sleeping make sure they are on their back so they don't suffocate through the mattress. Also make sure the crib they are sleeping in doesn't have stuffed animals or bumpers that could fall and block their airways.
Motion Sensors
You can install motion sensors around your home. This will show you how many people are in your home and where they are. It will also alert you if your toddlers or teenagers are getting into mischief. You can have these motion sensors alert your phones so you don't even have to be home to catch them sneaking out or sneaking someone in.
Health Monitoring
Locks and doors aren't the only thing you should be monitoring in your home for safety. To make sure your home is safe, you should be monitoring for fire, smoke and carbon monoxide as well. There are different monitoring and security systems that will help monitor the silent and deadly gases that could be invading your home.
Windows
Your doors aren't the only way in or out of your home. Windows can be just as dangerous, especially with smaller children who are curious, and like to climb and explore. Having window monitors, locks or sensors aren't just good for exploring toddlers; it will also help keep track of your teenagers sneaking in and out of the windows too. Another way to keep toddlers and small children safe is to make sure all the cords or chains on blinds aren't in reach. Also, make sure there aren't any pieces of furniture they can climb onto to get out of the window or to the cords.
Video surveillance
Video surveillance around your home with remote access or mobile device connection can allow you to see what and who is around your home. Having a video feed at your fingertips can give you peace of mind as well as a record of who has been around your home and at what time.
There are different ways to keep your children safe, but one of the simplest ways is to make sure you can see them at all times. Even if you aren't in the same room, some of these security measures can help with that.
" Please only post reviews if you are a current user with this company or have been in the past so that this information is as accurate as possible."