Your garage is more than a place to store your car; it's the first line of defence against car theft. The key to keeping your car safe is securing your garage as well as your car. Using a combination of high- and low-tech strategies, you can make things extremely difficult for a would-be car thief and cause him/her to abandon the attempt altogether. Some cars come with keyless technology, but unfortunately many car thieves have become familiar enough to circumvent the technology. You always have to be one step ahead of the criminals.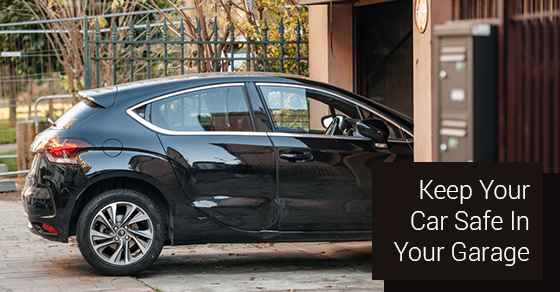 Basic Steps to Securing Your Garage
Secure your windows and side doors, because these are frequent entry points for burglars. Have the surrounding areas well lit and install deadbolt locks. Install a quality garage door that cannot be easily broken into, such as one made from galvanized steel. Many garage doors come with an emergency latch, and this can be easily pulled down with a wire coat hanger (as has been demonstrated in a YouTube Video). To prevent this, thread a plastic tie through the emergency release latch. It will be much more difficult for a thief to pull it down.
Securing Your Car
Use a steering wheel or gearstick lock. This might seem old-fashioned, but it can still work -- especially when used in tandem with more high-tech security measures. In addition, have an alarm system as well as a tracking device. Shut all windows (including the sunroof) and make sure the car is locked.
Some cars come with keyless technology, and so you will need to take more sophisticated measures, such as fitting an on-board diagnostics (OBD) lock. Technicians typically access your car through the OBD port, so purchase an OBD lock that cannot be accessed without a code. Check in with the dealer for regular software updates.
Additional Measures
Have cameras installed around your car and always have your keys with you. Never share your code with anybody and be vigilant about your surroundings. Hide the remote control for your garage door in the glove compartment and don't expose any valuables to the naked eye. Take part in a neighbourhood watch program and report any suspicious activity in the neighbourhood.
The key to keeping your car safe is using a combination of sophisticated as well as simple measures to remain one step ahead of the intruders. The more precautions you take, the less inclined a burglar will be to steal your car (or anything else you have). If you would like any other tips or suggestions about how to secure your car and garage, then please contact us.
" Please only post reviews if you are a current user with this company or have been in the past so that this information is as accurate as possible."