For awhile now, a basic security system that offers 24/7 monitoring and maybe window and door sensors, motion sensors and a fire alarm, has certainly been a good way to prevent break-ins. Today, however, homeowners have a variety of tech products available to them that can be integrated into their home security system to give them that extra level of protection. And most of the time these products can be deployed without adding any extra sensors, sirens or alarms.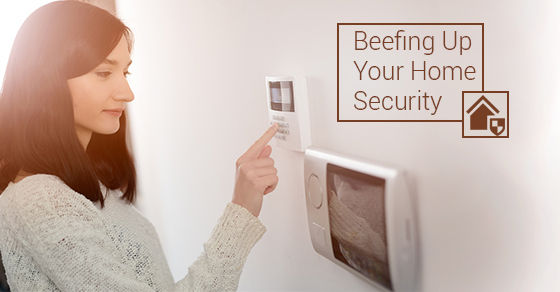 So, if you are thinking of beefing up your existing security system, all you have to do is act like a film director: "Lights, camera, action!"
Lights!
A well-lit or a suddenly bright area scares off criminals like lightening. When lights are integrated with a home security system, motion sensors can trigger flashing lights, illuminate the escape route in a fire emergency, or illuminate the whole backyard in glaring light if movement is detected. What's more, when the family is away, the lights can be programmed to go on and off at regular times when everyone's home, in order to maintain the impression that the house is occupied.
Camera! "Ready for your close-up, Mr. Thief?":
Surveillance cameras are indispensable for monitoring the areas around your house. Still, tying your surveillance system to your home automation so that video can be easily accessed on the home TVs or touch panel, takes this security measure a notch higher. The cameras can be programmed to send live video to any of your devices whenever motion in or around your house is detected.
Action! See it on video.
Since much of the time a family spends at home is in front of screens (TV, mobile, etc.), being able to see who is at the door, or if anyone is lurking around the house while you're engaged in a show or a game, is a really convenient security measure. A home automation specialist can set up a system that transmits video from surveillance cameras to all the screens in the house, usually in a picture-in-picture format.
"Bring in the sound track!"
Intercoms. Being able to hear the identity of the person at your front door is a very good security measure, and many intercoms today have built-in cameras so you can also see who is at your door and whether there are other people with them as well. For added convenience, get an intercom that can be accessed remotely so you can talk with house visitors even when you are not at home. This will certainly come in handy when you're late for a meeting at your house or for a dinner party!
Audio system. Your audio system most likely provides you with hours of listening pleasure anywhere in the house, but it can also be very useful as an added security measure. When a security sensor detects that someone has accessed your property, the audio system can be used to broadcast pre-recorded warnings all throughout the house, to scare the intruder away.
"And that's a wrap!"
Go for motorized window treatments. In addition to saving you a bit of time and effort when lowering and raising your window coverings every morning and evening (and if you have lots of windows, a lot of time and effort!), programmed motorized window treatments that go up and down at regular times help to create the impression that the house is occupied when it isn't. And if you have large, floor-to-ceiling windows that perhaps hinder your privacy, you can configure them to lower on command from a keypad or remote before you arrive home, or when a motion sensor detects that someone has entered a room.
If you are looking at buying a security system, a provider who will include all these home automation technologies with their security package, is your ideal one-stop shop. You just have to decide for yourself which products deliver what is most needed for your family and best fit your lifestyle and budget.
" Please only post reviews if you are a current user with this company or have been in the past so that this information is as accurate as possible."